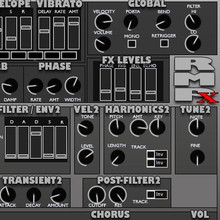 Krakli Synths has announced the release of RMPx, a re-clothed and updated version of RMP2.
This is to say thank-you to all of my friends around the world. I know that I do not 'knock-out' as many plug-ins as I once did but hopefully this freebie will make up for that. RMPx contains the same top notch patches from Himalaya and Dimitri that were included in RMP2.. Anyways I don't need to say anymore except Merry Christmas and Happy Synthing..
RMPx for Windows (VST) will be available to download for a limited time only.
More information: Krakli Synths