Plugin Boutique has launched an exclusive sale on Kuassa EQ plugins, offering 50% off on emulation of the Neve 1081, Neve 1084, Pultec MEQ-5 and EQP-1A EQ.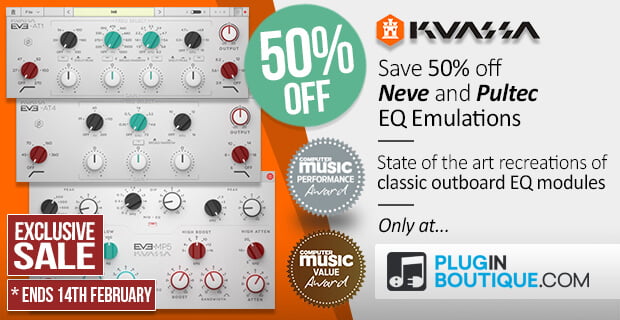 The sale includes the EVE-AT1, a 4-band parametric equalizer with an additional high-pass and low-pass filter. Inspired by the EQ section of the renowned British Classic Neve 1081, this equalizer delivers a clear, smooth, and musical sound to shape your tracks.
Although the EVE-AT4 has fewer bands, a smaller frequency selection palette, and less Q bandwidth selection options as compared to the EVE-AT1, its strength lies in its unique filter implementation, producing an idiosyncratic frequency response not present on the EVE-AT1. The result is a particular tonal character; the sound and tonal shape of its original incarnation is a hallmark of many classic recordings from the '70s.
Both plugins are also available in the EVE-AT bundle.
The EVE-MP5 is a reproduction of two of the most sought-after classic hardware equalizers, the Pultec MEQ-5 Midrange Equalizer and the EQP-1A Program Equalizer. This plugin comes with a unique saturation feature with intelligent level compensation. Perfect for adding grit to basslines, making vocals stand out in the mix, or instant mojo for anything. Also works great for mastering.
Kuassa's EQ plugins for Windows and Mac (VST/VST3/AU/AAX) are on sale at a 50% discount until February 14th, 2018.
More information: Plugin Boutique