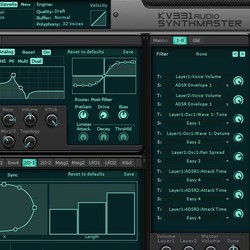 KV331 Audio has released version 2.6.8 of its SynthMaster virtual synthesizer for Windows and Mac.
SynthMaster is an 'all-around' semi-modular software synthesizer and effect plug-in that features many different synthesis methods.

This update brings a new feature that's been requested by our users: Being able to mark presets as 'Favorites' so that they can be loaded easily. There are also critical fixes in this update.
Changes in SynthMaster v2.6.8
NEW: Option to mark presets as 'Favorites'.
NEW: SynthMaster User Manual updated.
FIX: Renaming a preset and then reloading again crashes SynthMaster.
FIX: Loading partial presets dont cause a refresh of the GUI until it is closed and reopened.
FIX: Waveform cache data is different between 32/64bit versions, causing issues when both versions are used on the same computer.
FIX: Pressing on 'Online' button to bring up online presets list crashes SynthMaster.
FIX: SynthMaster reverts waveforms in presets to default Sine wave when the preset is loaded more than once.
FIX: SynthMaster might crash the host application when the GUI is open and automated parameters are being updated by the host.
FIX: When an instance of SynthMaster is destroyed and then recreated again by the VST host, the instance might not be initialized correctly and might crash the host.
FIX: Changing discrete parameters values might not set the parameter value correctly when running under Ableton Live.
FIX: SynthMaster doesnt set default preset folder correctly when user saves a preset.
FIX: SynthMaster doesnt read WAV files correctly when format chunk size is not 16.
FIX: Renaming presets dont rename the preset file.
SynthMaster is available to purchase at a 30% discount until September 1st, 2013. Registered users can update free of charge.
More information: SynthMaster