Bram Bos' Lunchbox Battles is a standalone drumcomputer created for live jamming on any PC and according to the startup screen it's "the best waste of time since Minesweeper".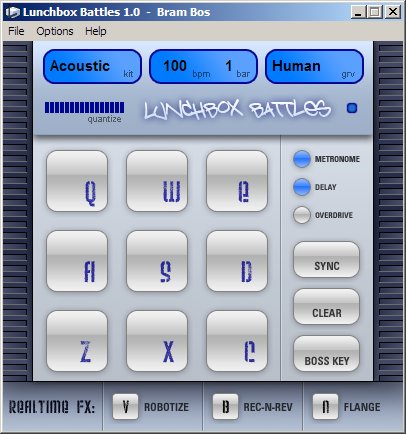 Right! This is one addictive little music toy indeed. Lunchbox Battles is all about having fun while creating some cool loops and it's easy to use as well.
Lunchbox Battles is fairly straightforward and intuitive but before you start, make sure to pop up the 'Show Keys' from the 'Help' menu to find out how to control everything. Recording the beats is simply done by pressing keys on your keyboard. The amount of bars can be set and a variety of drum/sound kits is readily available. Furthermore, several grooves can be selected to set the right feel to your beat and individual sounds can be muted if have too much going on.
There are 5 effects available to spice up your sound, of which 3 are only available in realtime mode: Robotize, Rec-N-Rev and Flange. The Delay and Overdrive effects will be included when you export to .wav format.
Lunchbox beats can be saved/loaded, and besides export to .wav you can also export to MIDI format.
Check these 3 exported .wav sound clips to hear type of beats you can create with Lunchbox. (yes I wasted time creating them at work and I didn't even need to use the 'Boss' key!)
If you get bored with the 6 included drum kits you can just add your own kits and waste more hours with this great drumcomputer!
Check the KVR Developer Challenge page for a link to download Lunchbox Battles and start jamming!