KX77FREE has released version 3.0 of virtual vintage modular polyphonic synthesizer Kx-Synth-x16, and version 2.1 of Kx-Modulad, an analog modular synthesizer with stereo SF2 player and an additive synthesis.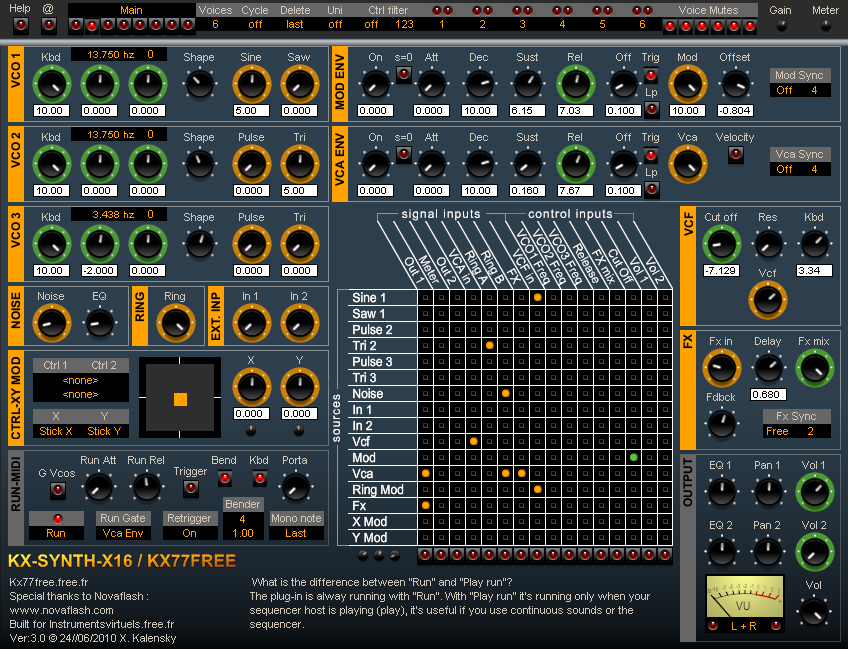 Changes in Kx-Synth-x16 v3.0
KX77FREE oscillators replace the native SE oscillators (tweaked with a lot of modules). The result is -40% of CPU use won (-33% up to -50%).
The waveforms have been modeled by using additive synthesis (Wavetracer v2.0). This technology produces waveforms like the original analog waveforms, the timbre and the shape can be identical or very close.
Kx-Synth-x16 oscillators are 100% compatible with the Kx-Modulad waveforms. These waveforms are available on http://kx77free.free.fr.
New parameters: "G Vcos" to put all vcos in phase to do fatty bass sounding.
New LFO parameters, the AUX envelop can control the LFO speed and its amount to the LFO level is now independent of the main AUX envelop level used to the matrix.
Midi input channel selector added.
All the Midi learn parameters are set to "none", you start with a blank Midi learn setting.
All banks in version 2.5 are compatible with those of version 3.0. This new version keeps the same vst index (ID) of the version 2.5 in order to preserve the compatibility of the presets between the two versions.
Fixed: If a negative value of velocity modulated the release of the VCA envelope, the VCA output level could be completely saturated.
Fixed: A bug in Cubase 5 is avoided by changing only the first letters of the name of the plug-in. Indeed if two VSTs have the same ID and have theirs names beginning with the same letters Cubase 5 shows only one in its list of VSTs. If you want to keep the KX-SYNTH-X16-V25, the plug-in V3-KX-SYNTH-X16 will work fine and will appear in the VSTs list of Cubase 5.
Changes in Kx-Modulad v2.1
Wavetracer v2.0: all VCS3 waveforms was done with this new version!
Help texts for all Wavetracer parameters.
13 new waveforms are available.
All the Midi learn parameters are set to "none", you start with a blank Midi learn setting.
Fixed bugs: the Midi Learn channel was selected alway to "All" and the Aftertouch destinations was wrong.
Kx-Synth-x16 and Kx-Modulad are available to download as freeware VST instrument plug-ins for Windows PC.
More information: KX77FREE