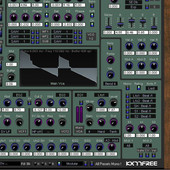 KX77FREE has released version 2.21 of Kx-Modulad, and version 3.2 of Kx-Synth-X16, two free synthesizer instruments for Windows.
Kx-Modulad is an analog modular synthesizer with stereo SF2 player and an additive synthesis WaveTracer to build high quality waveforms. 128 KX presets (70's and 80's).
Changes in Kx-Modulad v2.20/2.21
New classified presets.
Kx-Synth-x16's LP12, LP 6 filters added.
Improvement of the Soft Sync (Vco2).
Internal presets management (fxb, fxp, copy, load, save).
Skin improvement: grey outlined and pop-up menus.
Power off to the Ring Modulator, Lfos, S&H, Noise and synchronized clocks.
Less CPU use in sleep mode.
Optimization of modulations to the Vcos, -15% of CPU use when all of them are used.
Less CPU use when the Prg Change works again.
The Fx decay did not stop during the Prg Change.
The filter selectors was alway on "R:LoM" (first preset).
Fixed bug: wrong Fx initialization in some case (2.20 bug).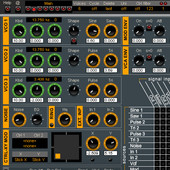 Kx-Synth-X16 is a vintage modular polyphonic synthesizer, based on the the VCS3 structure.
Changes in Kx-Synth-X16 v3.2
Internal presets management (fxb, fxp, copy, load, save).
New parameter: "Mod" to use only one envelop.
Skin improvement with pop-up menus.
The synchronized clocks go in sleep mode when they are not used.
The envelop loop mode ("Lp") could not be enabled when the envelop sustain.
Kx-Modulad and Kx-Synth-X16 for Windows (VST) are available to download at no cost.
More information: KX77FREE