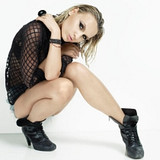 Laptoprockers has announced the launch of the ´Eddie The Gun´ Remix Contest.
Laptoprockers teams up with Camilla Romestrand and Slanted Black Records to launch the "Eddie The Gun" Remix Contest. Norwegian born Romestrand has been making waves in the London music scene ever since she arrived there with one single goal: to succeed as a musician. Fronting her band Dolls House, Camilla first enjoyed the taste of success in 2007 – and now she's back as Eddie The Gun. Title track to the horror movie Chain Letter, her single "Don't Be Afraid" recently topped MTV's on-line video charts.

Dubbed to be a singer "that drips with so much sex she jellifies the legs of any boy or girl watching!" by UK music magazine NME, "Don't Be Afraid" is a rock ballad that fits Camilla like a second skin. Just listen to the track and you'll know why. It's all in her voice. According to Craig Mitchell, Slanted Black's label manager, the track is a big challenge to remix. "I'm really excited to see how the former mtvmusic.com #1 song gets reimagined! Dubstep, drum & bass, house, tech. Hey, as long as the music is good -THAT is what it's all about!"

In their sixth remix contest, Laptoprockers managed to find several sponsors to fill the prize pool with some nice prizes. Great mastering plugins from Sonoris Audio Engineering, an Eclipse MP3 player, Third Shift T-shirts and posters from Steez. Plus a release on a remix EP on Slanted Black Records for the best three remixes!
The deadline for entering your submission is 11 January, 2011.
Visit Laptoprockers for more information.