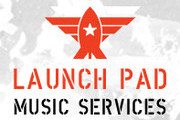 Launch Pad offers a variety of unique and affordable services aimed at independent record labels and artists including audio mastering, audio mixdowns and music licensing for commercials, film, television and video games.
Launch Pad services
Audio Mastering

– Our engineers guarantee to maximise the potential of your music and deliver the loudest, warmest and most dynamic masters available from any online mastering service. Using a combination of hardware and software our team will give your music enough punch to go ten rounds with any club anthem on the planet.

Audio Mixdowns

– Our team can breathe new life into your music, giving your mixdowns the definition, loudness and punch they need to cause maximum dance floor destruction. From your beats and breaks to your sub bass we guarantee to deliver the accuracy that you need in your mixdowns, helping you take your career to the next level.

Music Licensing

– We represent some of the world's most exciting producers and songwriters including Flore, Jonathan Clyde Jones, Lisa Fitzgibbon, Phil Saatchi, Rennie Pilgrem, and Xample. If you think your music has what it takes then get in touch and submit your tracks. A quick response is guaranteed for all submissions.
More information: Launch Pad