Plugin Boutique is offering a 40% discount on plugins from Leapwing Audio as part of a limited time Black Friday sale.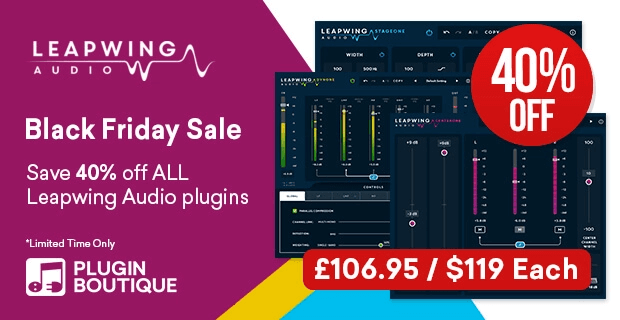 Leapwing Audio love analogue and they love digital. They also recognise that there are things you can't do in the analogue domain and understand that focus is key. Save 40% off all 3 Leapwing Audio products for a limited time!
The sale includes:
DynOne 3, a smart parallel multi-band dynamics processor.
StageOne, enhance the soundstage of your stereo mix, and even bring your mono recordings to life.
CenterOne, adjust your phantom center signal without changing the panorama or spectral characteristics.
The plugins are on sale for $119 USD each until December 4th, 2019.
More information: Leapwing Audio