Plugin Alliance has announced the release of the new Lindell 50 Series, a console emulation that aims to bring the classic "American Sound".
Lindell 50 Series includes the console and the buss, and it comes with patented Tolerance Modeling Technology (TMT) from Brainworx. It also includes 3 graphic and parametric EQs, 2 compressors, gate and mic preamp.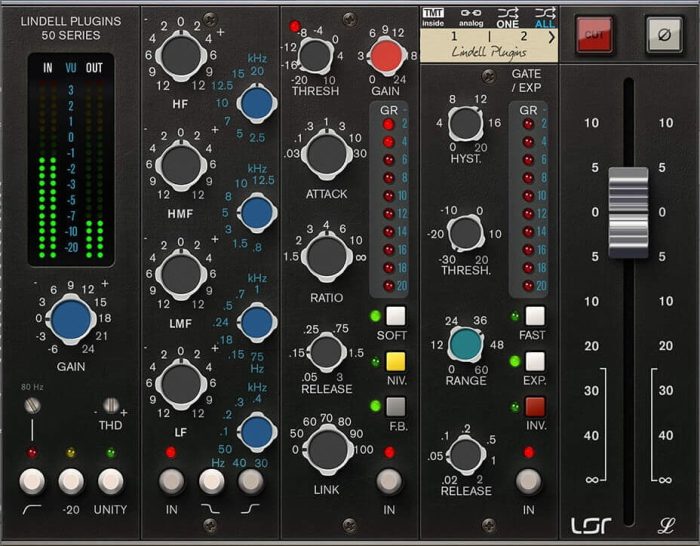 There's a tight and powerful sound to API consoles, preamps, and EQs that have made them some of the world's favorites for creating professional-sounding drums, guitars, synths, and more with attitude and presence.

Thanks to Brainworx's patented Tolerance Modeling Technology* (TMT), you can now access the most convincing model of these classic consoles ever, including the slight channel-to-channel variances in the values of their analog components.
Lindell 50 Series features
72 different TMT (US Patent No. 10,725,727) channel emulations in one plugin, just like a real console.
Switch between 3 different EQs modeled after the most popular 500-series lunchbox designs.
Switch between 2 different compressors, VCA, and FET.
Emulation of classic API noise gate and expander.
Capture the full, tight, and punchy tone of the classic API preamps, with automatic gain compensation.
Continuously variable THD and Virtual Gain controls to add colorful saturation and/or simulated analog noise independently or globally.
Scalable UI to adapt to your screen size and workflow.
Loaded with plenty of useful presets to give you a starting place for finding your sound.
The emulation is offered at an intro price of $299.99 USD (regular $349 USD). Use coupon code LINDELL50-INTRO-22999 to reduce the price even further to $229.99 USD until February 3rd. Owners of TMT consoles or ChannelX can login to their PA account to get a special license offer.
Lindell 50 Series has also been added to the Mix & Master and Mega Bundle subscriptions at no cost.
More information: Plugin Alliance