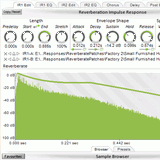 LiquidSonics has released version 1.610 of Reverberate, a hybrid convolution reverb audio processor for Windows and Mac.
LiquidSonics pleased to announce full RTAS support in the latest release of Reverberate as a free update for all users. Due to the number of incremental improvements over the last 18 months the selling price of Reverberate has been increased to more accurately represent its place in the market.
Changes since Reverberate v1.600
Reduced memory consumption of the early reflections module.
The EQ states automatically enable when an EQ parameter is modified.
Fixed initial values for the stereo wideners where saves were made using version 1.506 (previous saves work as expected). Download PC 32-bit, Download PC 64-bit, Download OSX.
Native RTAS x86 support.
New early reflections reverb module incorporating virtual point source generation models.
New stereo widener for each IR.
64 new true stereo impulse responses.
Two additional preset banks utilising the new true stereo IRs and the early reflections module.
New consolidated EQ views for IR1, IR2 and post to show all 5 bands on a single tab for quicker EQ editing.
A mirror of the IR1 and IR2 mixer gain controls on the IR1 and IR2 tabs for convenience during editing and selection.
Updates to the GUI for increased graphical texturing and a clearer representation of the IR state.
The IR reverse and normalisation controls have been moved to make space for the additional IR dials.
Mac: Fixed impulse response normalisation bug.
PC: Improved font rendering.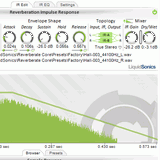 LiquidSonics has also introduced Reverberate Core to meet the needs of producers and musicians who require a simple and efficient true stereo convolver without the modulation and effects capabilities of the full edition of Reverberate.
Existing users of Reverberate can also benefit from the reduced memory footprint and suitability of Reverberate Core when configured as a higher latency workhorse reverb processor when the full flexibility of Reverberate is not needed (for instance when using third party impulse responses on delay compensated audio tracks).
Reverberate is now available to purchase for £50 GBP, Reverberate Core is £30 GBP.
More information: LiquidSonics