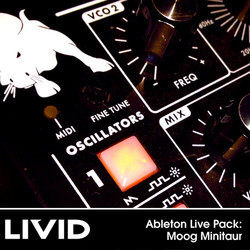 Livid Instruments has launched a free sample pack featuring the sounds of the Moog Minitaur synthesizer.
The Moog Minitaur seems about as simple as a synth can be. A couple oscillators, some modulators, a classic filter. Done, right? Not really. This recreation of the classic Taurus bass synth has been updated for the modern synth geek, with several parameters under the hood that can be tweaked with MIDI, creating a maze of possibilities true to its namesake's legend.

KC Harvey Taylor dove into this puzzle, and he sailed out flying the white flag, collecting some of the Minitaur's sound in a Live set with some nice samples and effects.
The sample pack is available to download in Wav and Ableton Live formats.
More information: Livid Instruments