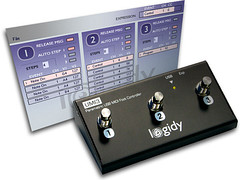 Logidy has released the UMI3, a USB MIDI foot controller which can be configured to control any audio recording application that supports standard MIDI messages.
The UMI3 is a USB foot controller which shows up as a class MIDI device on Mac or PC. No driver installation is required. It is powered through USB. Each of its three switches can be can be configured to send any type of short MIDI message (note on/off, continuous controller, program changes…) An external expression pedal can be connected to the "exp" input which can be configured to send any continuous controller message. A status LED indicates power and USB activity. The enclosure is made out of steel.

This controller is ideal to control events and parameters in digital audio workstations or loop based recording programs when performance renders access to a mouse impractical.
UMI3 features
Start/Stop Recording/Playback in your DAW.
Trigger loops – perfect for loop based DAWs.
Use it as a note pedalboard.
Create note or event sequences to step through.
Take full advantage of the MIDI mapping in your DAW.
USB powered. MIDI class compliant – No driver required.
UMI3 is available to purchase for $49.99 USD + shipping.
More information: Logidy