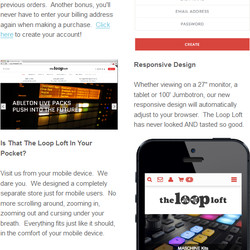 The Loop Loft has announced a website redesign, offering a number of improvements and a $10 USD discount on your next purchase.
Today we're excited to unveil the completely redesigned Loop Loft. To celebrate, we're throwing a housewarming party and giving everyone $10 off their next purchase! Just use the code below at checkout.

Discount Code: NEWLOFT
Changes at The Loop Loft
Customer Accounts — You can now create your own account and have instant access to all of your previous orders. Another bonus, you'll never have to enter your billing address again when making a purchase.
Responsive Design — Whether viewing on a 27″ monitor, a tablet or 100′ Jumbotron, our new responsive design will automatically adjust to your browser. The Loop Loft has never looked AND tasted so good.
Is That The Loop Loft In Your Pocket? — Visit us from your mobile device. We dare you. We designed a completely separate store just for mobile users. No more scrolling around, zooming in, zooming out and cursing under your breath. Everything fits just like it should, in the comfort of your mobile device.
Customers can save $10 USD off their next purchase by using coupon code NEWLOFT at checkout. This promotion ends October 27th, 2013.
More information: The Loop Loft