Loopcloud has announced version 2.0 of its cloud-connected application for browsing, streaming and importing your samples, loops and sounds effortlessly into your DAW.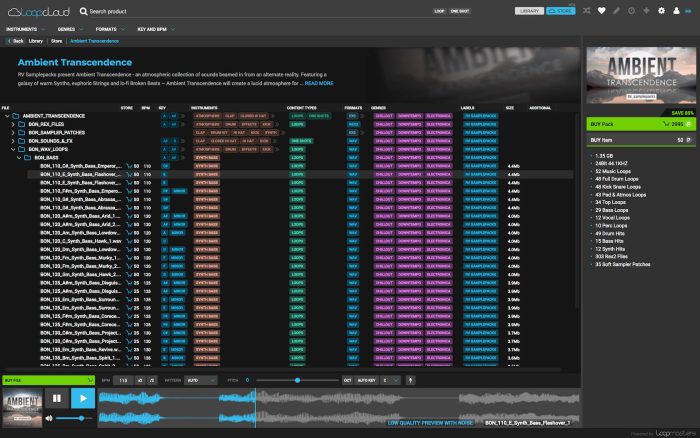 Loopcloud 2.0 is out now, and it lets you audition the award-winning Loopmasters catalogue in your DAW, in perfect sync with your projects, for free! Now you can preview millions of sounds made by the world's top artists – whether you own them or not – straight from the cloud. Only pay for what you need when you're ready to commit and drag directly into your project.

The world of music is changing, and so is Loopmasters. Loopcloud 2.0 makes it possible to buy just the individual samples you've auditioned, as well as full packs or folders of sounds. You can now preview sounds right inside the app – no need to open a browser or download and unzip.

With comprehensive updates to tagging and navigation, Loopcloud 2.0 makes it even easier to find the sounds you're looking for. With the new Auto Keymatch function, any sample can be automatically transposed, making it fit your host project whatever its original key.

Loopcloud 2.0 now connects to your DAW automatically, updates on its own and works 4x faster. Improved optimisations across the board make Loopcloud more intuitive, inspirational and speed up your workflow.
Changes in Loopcloud 2.0
Audition the entire Loopmasters catalog in your DAW.
Stream millions of samples whether you own them or not.
Buy individual sounds, folders and packs directly from Loopcloud.
Sounds match your project's key automatically for easy auditioning.
Loopcloud automatically connects to any DAW via the Loopcloud plugin.
Tagging is improved to help you choose from millions of sounds.
Upgraded GUI and graphics, and general optimisations.
Software updates are performed automatically.
New and existing users can download Loopcloud 2.0 for free (no subscription required).
All users will be given 500 free credits to get started. Until August 1st, all users will receive double credits on their first purchase.
More information: Loopcloud