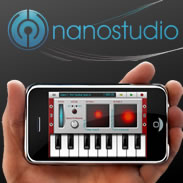 Loopmasters has released a number of free sample packs for NanoStudio, the iPhone App by Blip Interactive.
There's been a big buzz around Blip Interactive's superb music making Iphone app Nanostudio over the past couple of months, with the app getting great reviews and excellent user feedback.

We were so impressed that we offered to contribute some sounds and they thought it sounded like a nice idea. Loopmasters have contributed around 400 free samples for use in NanoStudio and you can grab them here.
The free packs are based on Loopmasters sample CDs, and as new CDs are released more free demo packs will be available. The samples have been converted from 24 to 16 bit and most are already arranged into TRG banks but they can also be used individually.
More information: Loopmasters