Luftrum has announced the release of a new sound library for the Pigments 2 wavetable and virtual analog synthesizer instrument by Arturia.
Luftrum 23 contains a collection of ambient cinematic sounds for the film scoring space traveller and the electronic producer.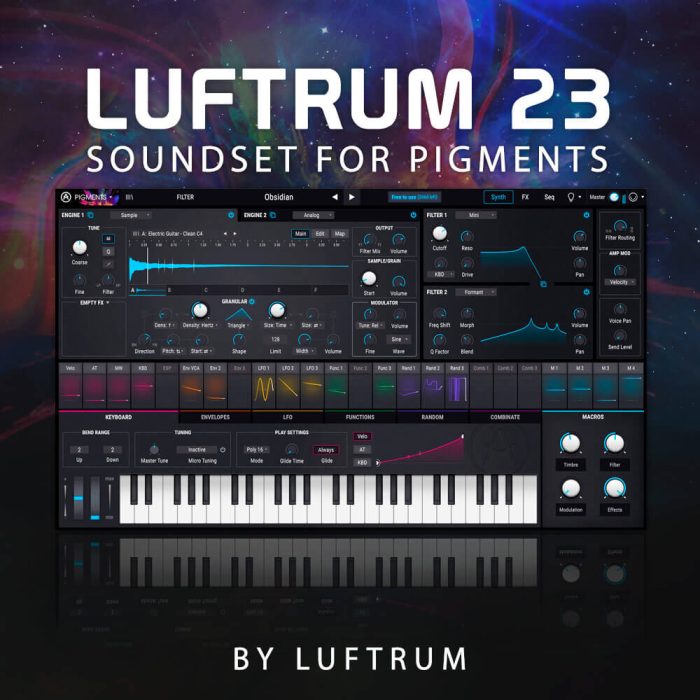 The set is created by Luftrum and taking the sounds back-to-basics in the vein of early Luftrum releases with rich pads, silky Vangelis-like keys, bitcrushed yet mellow synth leads and underscoring textures.

The soundbank also contains conceptual granular work with sonics originating from space itself, like the dusty, mesmerizing granular pad Stillness of Stars sculpted out of a short snippet of otherworldly frequencies from Voyager 2 as it passed through the outer magnetosphere in 1979.
Luftrum 23 features
100 presets for Arturia Pigments 2.
75 original presets.
25 alternative versions.
22 "sweet spot" FX presets for the reverb and delay effects.
The soundset is available now for $29 USD. Use promo code REKKERD at the checkout to get a 10% discount on any purchase at the Luftrum store.
More information: Luftrum