IK Multimedia has announced version 1.1 of its Lurssen Mastering Console mastering software for Windows, Mac and iOS. The update includes Multi-Mono operation for use in mixing sessions including large surround projects, new Jazz and Classical "Styles" and more.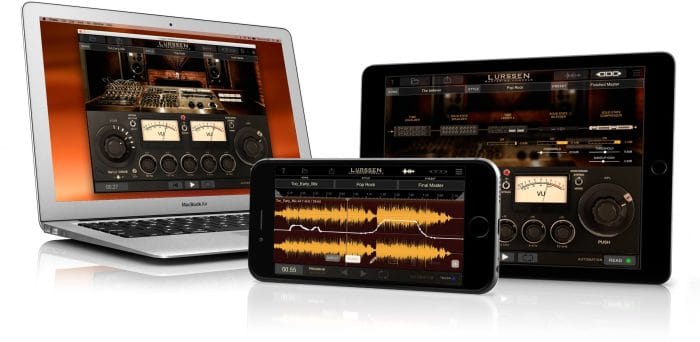 Lurssen Mastering Console, the award-winning professional mastering software, born from the collaboration of the IK Multimedia development team with multiple Grammy® winning engineers Gavin Lurssen and Reuben Cohen is now even more powerful and flexible making it ideal for multi-track and surround mixing applications.

"We're pleased to offer new features such as improved dynamic range and signal-to-noise ratio along with multi-mono operation for mono, stereo and surround use for the pro users who have asked for it," said Gavin Lurssen, Chief Mastering Engineer.
Changes in Lurssen Mastering Console v1.1
Multi-Mono operation – From mastering to mixing and surround
The Lurssen Mastering Console plugin can be inserted in mono, stereo, multi-channel tracks and busses in any compatible DAW for ultimate flexibility as both a mastering and mixing tool. The new mono operation not only allows users to use the plugin on mono tracks (such as vocals, bass, guitars etc.) in regular mixing sessions, or stereo busses for stem mixing or mastering duties, but it can also be used on 5.1 surround, or even larger surround projects, depending on the DAW. The parameters, presets and styles will remain consistent across all instances on a multichannel bus when the settings are linked. This will allow greater precision and consistency in surround operation for the highest quality results.
More Styles: Jazz and Classical
Mastering Jazz and Classical music is a very delicate process where every tiny adjustment can make or ruin the final master. Thanks to the experience of the Lurssen Mastering team, spanning over 30 years in all kinds of music genres, Gavin Lurssen and Reuben Cohen have developed two new "Styles" for use within these specific contexts. Each Style has been meticulously crafted to reflect Gavin Lurssen's motto: "You want it sound like you were never there," meaning the sound will be enhanced and optimized but without altering the original artist's intent.
Extended De-esser threshold control range
In order to provide users with an extended control over higher frequencies in any given audio material (whether it is a vocal track or an entire mix,) the De-esser "Threshold" control range has been extended by 3 decibels. This applies to all versions of the product.
Noiseless analog character
The new update improves the sound quality even further by retaining all the subtle nuances of the original analog mastering chain while simultaneously removing the intrinsic noise of the hardware machines for a superior, crystal clear sound.
Lurssen Mastering Console for Windows and Mac costs 159.99 EUR/USD. The iPhone/iPad version is a free download from the App Store, operating in demo mode with in-app purchase available for Play/Process at 49.99 EUR/USD and HD Engine for 99.99 EUR/USD. All prices excluding taxes.
The update is available for free to current registered users.
More information: IK Multimedia