LVC-Audio has released T-Chain, a channel strip effect plugin that utilizes a modular design, allowing users to arrange different sound modules within the signal path.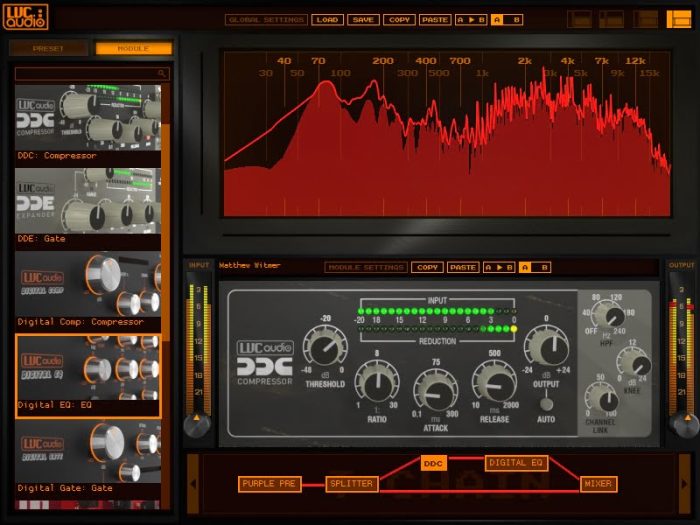 It can be as simple as using a single EQ or Compressor module, or as complex as you can imagine. Each module can be rearranged, added, and deleted by drag-and-drop – making it easy to rearrange your signal chain at-will.

T-Chain has numerous modules to choose from, and comes with several free modules that are easy to use, versatile, and powerful. This includes a free EQ, Compressor, Gate, and Splitter (for splitting the signal into two distinct paths). Additional modules can be purchased a la carte, and include more advanced modules such as preamp modules, oversampling capability, and more advanced dynamic modules. With more modules coming very soon.

T-Chain has a configurable interface, from compact to full-featured. Four different layout options exist. T-Chain includes a waveform view, as well as a configurable spectrum analyzer. Whether you are compressing, EQing, or whatever, the interface of T-Chain provides a standardized user interface.
T-Chain features
Free and Paid modules, with the ability to demo any module at any time.
Customizable spectrum analyzer and waveform display.
Full-featured preset management system with searchable filter and text-based importing/exporting.
Multiple plugin interface size (compact, small, medium, and large).
A/B Comparison feature for entire plugin, and for individual modules.
Available on Mac and PC; in VST, VST3, AU, and AAX formats; and 32- and 64-bit architecture.
T-Chain is a free download for Windows and Mac (VST/AU/AAX). From now until the end of 2016, all paid modules are 50% off the regular price (prices start at $9.98 USD).
All other paid LVC-Audio plugins are also 50% off until December 31st, 2016.