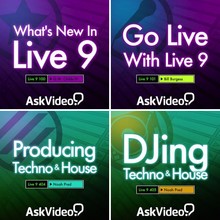 macProVideo.com has announced the release of several new Live 9 training videos.
We've been working hard behind the scenes with our partners at Ableton to create the world's largest and most comprehensive selection of Live 9 training.

Starting today, our Live 9 courses are hitting the Library, and there will be close to a dozen new titles released in the next month, so stay tuned.
Ableton 9 training videos
Live 9 100 – What's New In Live 9
Live 9 is here and so is our FREE "What's New" course. Hang out with GW Childs and see the cool new features in Ableton's latest DAW masterpiece…
Live 9 101 – Go Live With Live 9
There's a reason why Ableton calls it "Live". Dive into this course and get all the inspiration you need to go live with Live 9…
Live 9 404 – Producing Techno and House
Join producer and Certified Trainer Noah Pred on a production journey as he creates a House & Techno track from start to finish in just two hours with Live 9! Come along for the ride…
Live 9 405 – DJing Techno and House
The future of DJing is here! House & Techno producer Noah Pred shows you all the ins and outs in this DJ-centric Live 9 course…
The videos are now available to macProVideo.com subscribers.
More information: macProVideo.com