Madrona Labs has released version 1.1 of Kaivo, a semi-modular physical modeling synthesizer instrument for Windows and Mac.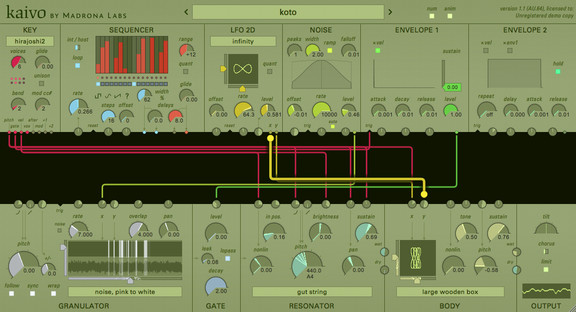 Hi there! For the past three months, I've been working on an update to Kaivo, and it's finally time to roll it out. I've tuned up the audio engine, improved the graphics and spent many hours finding and fixing a whole host of minor UI issues that made people including me go "grrrr" sometimes.

Thanks as always for your support, and all the feedback you have sent my way about the 1.0 version. This 1.1 release is feeling buttery smooth here, and I hope it gives you many happy hours diving into sound.
Changes in Kaivo v1.1
Over 50 new factory patches.
Optimized DSP code (10-20% improvement).
Made demo reminder noise quieter.
Added a new audio import dialog.
Trimmed and optimized source samples.
Fixed a compatibility problem with Soundplane.
Improved model sonics in high frequencies.
Improved resonator tuning.
Increased range of resonator damping parameter.
Improved legibility of scope dials.
Fixed a problem saving the window location.
Fixed glitches in xy scope display.
Improved typography.
Improved granulator view speed.
Fixed annoying disappearing menu issue.
Fixed keyboard stealing issue in 64-bit VST.
Added case-insensitive sort for patch menu.
Fixed audio issues with body nonlinearity.
Kaivo for Windows and Mac (VST/AU) is available for purchase for $129 USD.
More information: Madrona Labs / Kaivo