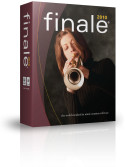 MakeMusic has announced Finale 2010, a powerful music notation software which lets you compose, arrange, notate, and print engraver-quality sheet music.
From Percussion Notation and Chord Entry to Rehearsal Marks and Measure Numbering, vast areas of Finale have been automated and simplified to save you time. Plus hundreds of music education worksheets, scanning improvements, and more.
New in Finale 2010
Percussion Notation — We've simplified the process of getting notes on percussion staves to look – and playback – exactly the way you want them to.
Chords — Change or delete notes without changing your chords. Attach chords to measures – whether or not they contain notes or rests – and have the chords appear and playback correctly.
Garritan sounds — Finale now includes more than 350 world-class instrument sounds from the makers of Garritan Personal Orchestra. Free new sounds include organ, a variety of electric guitars, five octaves of handbells, and a brush drum kit.
Automatic Rehearsal Marks — Use a keystroke to enter rehearsal marks and Finale automatically sequences them correctly and dynamically updates them when you delete, insert, or move any rehearsal mark or measure.
Music Education Worksheets — Finale now includes hundreds of ready-made, customizable, music education worksheets designed for K-12 students.
Graphics Support — Export as .JPEG, and .PNG and import as .JPEG, .PNG, .BMP, and .GIF in addition to previously supported formats of .TIFF, .EPS.
Broadway Copyist — Inspired by the golden era of handwritten Broadway scores, the Broadway Copyist hand-written font offers a lighter, classic appearance.
VST/AU Support & Updated Aria Player — Finale now supports all third-party VST/AU Instruments and Effects, providing users with unlimited sonic possibilities. Updated for Finale 2010, the Garritan Aria Player simplifies the process of changing MIDI channel assignments.
Measure Numbers — Control measure number alignment, positioning, and fonts separately in your score and linked parts.
Scanning Improvements and More — New Smartscore Lite scanning interface enables you to specify the instrumentation so that your staves will automatically be properly transposed and configured for playback. Also new are transparent selection handles, exporting lyrics to a word-processing document, and improved help documentation.
Finale 2010 is available for pre-order for $600 USD for new customers and upgrades start at $99.95 USD (limited time pre-order pricing).
Visit MakeMusic for more information.