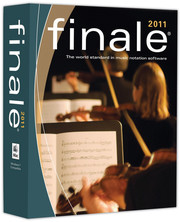 MakeMusic has released Finale 2011, the latest version of the worldwide standard in music notation software for Windows and Mac.
Finale has always offered you unlimited power to create any music you can imagine. Finale 2011 builds upon that power by transforming the creative process. Now, the way you create can be as flexible as what you create. Finale 2011 adapts to the way you work.
Changes in Finale 2011
Improved Lyric Entry and Spacing

— Lyrics are more easily entered, instantly appear exactly as they'll print out, and are automatically spaced with engraver precision.

Easier Staff Layout

— New Staff Layout capabilities make it simple and intuitive to hide, move, and edit staves, groups, and brackets. Work in any order you wish, and never lose a note.

Garritan sounds

— Finale now includes more than 375 world-class instrument sounds from the makers of Garritan Personal Orchestra. Free new sounds include bass trombone, brass section, children's choir ahs, flute section, electronic drum kit and more.

Music Education Worksheets

— Finale now includes more than 800 ready-made, customizable music education worksheets and flashcards. New this year are jazz improvisation worksheets and more than 100 titles of classroom repertoire.

New Fonts

— Hundreds of new font characters are included for percussion, mallet and handbell graphics.

Finale AlphaNotes™ Font

— Created for use with beginning music students, the Finale AlphaNotes font places note names or solfège syllables inside noteheads.

Expanded Percussion Playback

— Last year we simplified the process of getting notes on percussion staves to look – and playback – exactly the way you want them to. This year Finale 2011 makes it easy to switch between pitched and non-pitched percussion anywhere in your score.

Updated Aria Player

— The Garritan Aria Player simplifies the process of changing MIDI channel assignments. Updated for Finale 2011, the Garritan Aria Player has an integrated Ambience reverb and the ability to save Ensembles.

Instant Capo Chords

— Automatically add capo chords to your music with the freedom to control whether they replace or appear in addition to non-capo chords.

Improved Pickup measures and more

— Pick-up measures automatically insert the correct rests when you start your score, improved file support for multiple-user environments, and a new Quick Reference Guide that shows you how to complete common tasks quickly and easily in Finale.
Finale 2011 is available to purchase for $600 USD. Upgrades are available for $119.95 / $169.95 USD.
More information: Finale