Silence+Other Sounds has announced the release of Maleventum, a Kontakt instrument library that brings the sounds of epic war horns.
Suited particularly well the epic genre, with specific regard to fantasy and dark age movies, Maleventum is designed for TV, film and game composers and sound designers looking for unique, carefully crafted sounds to enrich their compositions.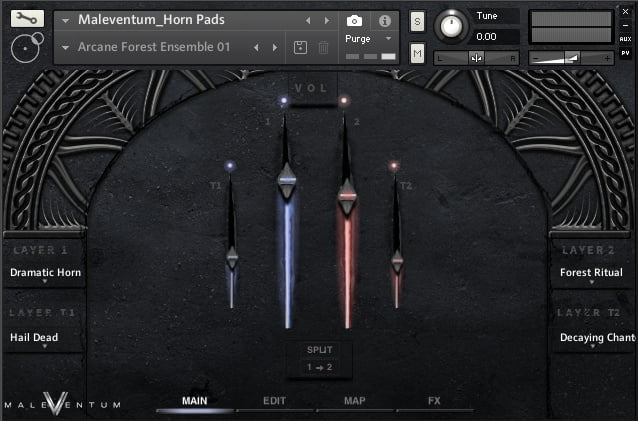 Maleventum is a Kontakt library inspired by medieval and Viking horns. We have committed to a deep research in the cinematic sound of epic war horns from ancient nordic and celtic cultures, from the carnyx to gjallahorn and bukkehorn (goat horn). We've recorded a huge amount of original medieval horn instruments, classical orchestral trombone and tuba, traditional flutes, horn instruments from the pastoral tradition across Europe and even self built blowing horns and pipes. All of them have been processed and layered to create a collection of epic braams, hunt horn calls, war horns, low tone brass sounds, high pitched screaming trumpets, animal-esque wailing sounds and much else.

Each sound and instrument contained in Maleventum instantly evokes scenes of forgotten dark ages, Viking armies and warriors, epic ancient battles, vast frozen landscapes, mystical pagan cults and supernatural presences hovering in the wind of the nordic woods.
Maleventum features
Playable, MPE compatible Kontakt instrument with over 100 snapshots and 58 MPE Multis, that combines up to 4 layers of horns, flutes and rare bagpipe sounds and textures.
Kontakt sampler of 260+ one-shots sounds (.WAV 96 kHz 24 bit) based on epic cinematic horns, tuned braams, war horns, viking horn calls, nordic hunt horns, dissonant trumpets, creature-reminiscent eerie horn tones, loud aggressive stabs, brass staccatos, long evocative tones, battle horn calls.
Intuitive GUI allows you to individually manipulate each sample, combine multiple sounds and obtain your own bombastic war horn stabs and viking braams.
Global Tuning function to tune ALL the samples to the same root key with just one knob, which turns very useful for more minimalist and aggressive compositions such as trailer music.
Cinematic low end Boost function that instantly invigorates the bass frequency register of the samples with just one click, to make you braams really roar.
Maleventum is on sale for the intro price of 39 USD/EUR for a limited time (regular 59 USD/EUR). Requires Kontakt 5.8.1 or higher, full version. The Wav files can also be used without Kontakt.
You can get a 50% discount on any other cinematic libraries with a purchase of Malevetum by adding the products to the shopping cart.
More information: Silence+Other Sounds