Mark Mosher has launched the 9 Box Method micro site, an on-line guide and library for Mark's "9 Box" methodology.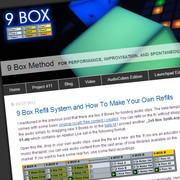 What is the "9 Box" Method? A system developed by electronic music artist and synthesist Mark Mosher that allows for performance, improvisation, and spontaneous tribal jams with music, sound, and light.

9 Box offers a consistent and transportable method that overlays commercially available components such as Ableton Live, and Percussa AudioCubes. It's also a set of templates and patches that will allow players to spend more time making music and sound than configuring hardware and software.

The first edition of 9 Box will be based on 6 Percussa AudioCubes. After that I'll be working on a Novation Launchpad editon.
More information: 9 Box Method