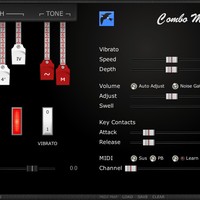 Martinic has released version 1.2.0 of Combo Model V, a virtual organ instrument for Windows and Mac.
Combo Model V is a freeware virtual combo organ, modelled after a well-known combo organ from the 1960s.
Changes in Combo Model V v1.2.0
Renewed, larger GUI with 3 views: organ, settings and tuning.
Shift click/drag footage/voice drawbars to change all drawbars at once.
Load/save tuning from/to Scala scale (.scl) files.
Remember sustain pedal/pitch wheel link when toggling sustain/pitch bend.
Added MIDI learn for bass switch and bass volume.
Selecting vibrato switch for MIDI learn no longer changes its state.
Fixed MIDI learning high-resolution CCs for drawbars and vibrato controls.
When changing MIDI channel turn all notes off.
[Windows] Slightly improved audio performance.
Fixed key stealing in FL Studio, Studio One.
Fixed QC LED turning on although tuning hasn't changed.
The Combo Model V plug-in is available as freeware for Windows and Mac (VST/AU).
More information: Martinic