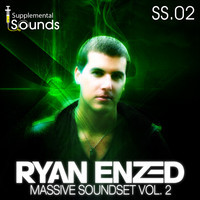 MassiveSynth has introduced Ryan Enzed Massive Soundset Vol. 2 – Complextro, a soundset by Supplemental Sounds.
Complextro officially took over in 2011. It's no coincidence that the genre that mashes up the best elements of electro house, progressive house, dubstep, and even trance, is complex to produce, hence the name.

Fortunately for you, Ryan Enzed and Supplemental Sounds have taken the complexity out of complextro with the second installment in their Native Instruments Massive soundset series. Beginning and experienced producers alike will appreciate the detail that went into perfecting the 4-8 macros on every patch for ultimate control, efficiency and versatility, right out of the box! The Ryan Enzed Massive Soundset Vol. 2 features loads of original patches for you to craft your own, unique sound, in addition to plenty of sounds that you have heard topping the Beatport charts in recent months.
The soundset costs $19.99 USD.
More information: MassiveSynth