Mastering The Mix has released an update to the Reference A/B comparison tool for Windows and Mac.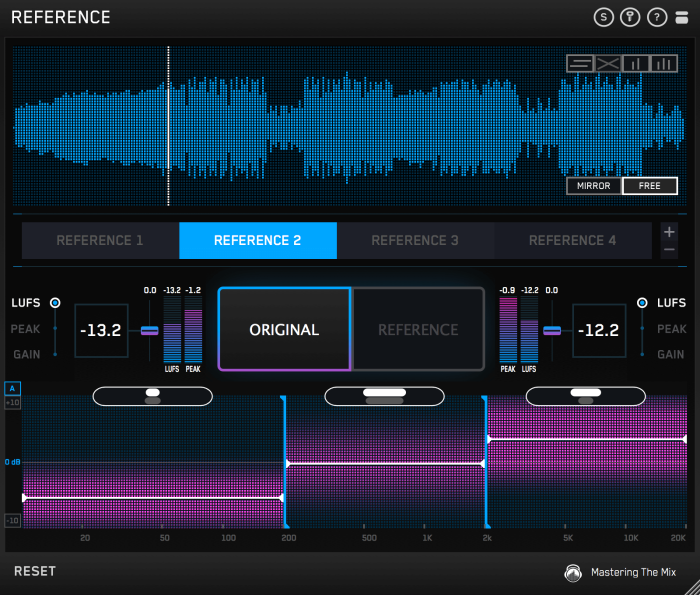 The update offers improved CPU usage and various fixes and improvements to the metering and reference plugin.
Ever felt your mix didn't sound as good as your reference tracks? It can be frustrating not knowing exactly how to get your music comparable to your favourite mixes. That's why we at Mastering The Mix created REFERENCE. It's packed with powerful tools and never seen before insights to help you get closer than ever to the sound of your favourite music.
Changes in Reference v1.02
Significant CPU utilisation improvements.
Level Match volume jump and audio drop out fixed.
Fixed crashes / freezes for some Windows desktop users.
Individual gain setting for each reference track that is saveable in a project and recallable in a preset.
Add Track Alignment, Level Match and Mode (free/mirror) data to saved file.
Mirror and Free mode can now be selected independently for each track.
'Free' mode now default rather than 'Mirror'.
Add Trinity Display dB scale setting to saved file.
Trinity Display dB scale flashes to show increase or decrease in automatic mode.
Start/stop in loop starts playback from beginning of loop when DAW is in loop mode.
When you copy Reference to a new track, it should keep its current settings rather than resetting to default.
Reference (VST/AU/AAX) is available from Plugin Boutique for £49 GBP.
More information: Plugin Boutique / Mastering The Mix Reference