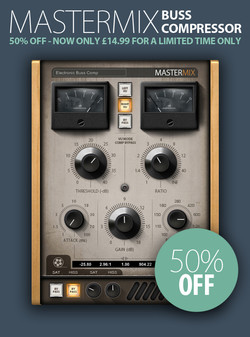 Minimal System has launched a sale on its MasterMix Buss Compressor, an analogue modelled buss compressor plug-in for Windows.
The MasterMix Buss Compressor is a labour of love for us here at Minimal System and is designed for those producers looking to add the finishing touches to their latest masterpiece.

Modelled on legendary buss compressors from classic analogue consoles the MasterMix Buss Compressor is a mixing and mastering powerhouse.
MasterMix Buss Compressor features
Analogue Modelled Buss Compressor.
The MasterMix Buss Compressor is designed for use on the Master Buss and also on sub-groups (Drum Groups etc).
Tape simulator stage complete with tape hiss and saturation.
Great visual feedback.
Functional and easy to use GUI Design.
Very low CPU usage.
The plug-in is available for Windows (VST) for £14.99 GBP for a limited time.
More information: Minimal System Instruments / MasterMix Buss Compressor