Plugin Boutique has launched an exclusive sale on Meldaproduction's MAutoDynamicEQ, a parametric equalizer effect plugin that combines astonishing versatility with ease-of-use to produce a really musical sound.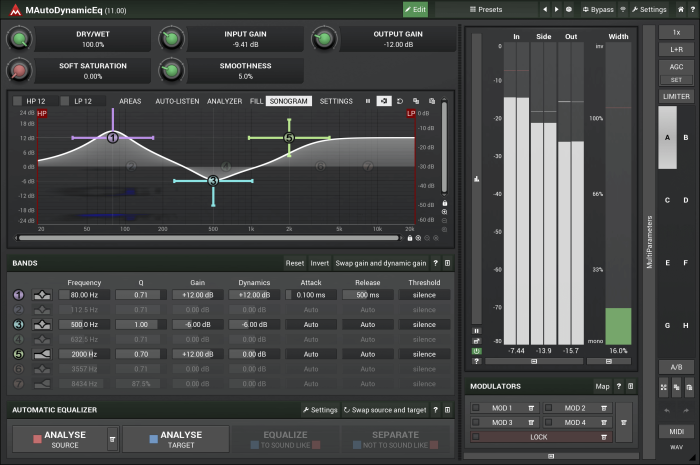 Inspired by the analog world, but taking advantage of the digital, MAutoDynamicEQ is extremely versatile, useful for everything from mixing to mastering.
Melda Production's Adjustable Slope Filter (MASF) technology gives you natural sounding, versatile filters that are free of the resonance associated with other equalizers. Each highly adjustable and dynamic band let's you fix problems easily, whether you are putting together a mix, or, tackling compression, expansion or de-essing tasks.

Melda Production's Filter Adaption (MFA) technology can actually perform your equalization for you based on an analysis of your recording, another recording or even your own 'drawn-in' spectral content!

They've included a whole host of other useful features too. Their integrated analyzer and sonogram lets you quickly see the structure of your audio material, while the high-pass and low-pass filters offer slopes from 6dB/oct up to 120dB/oct. There's also soft-saturation that adds a character normally only associated with analog consoles. And of course there is mono/stereo processing, upsampling, A/H presets and much more! The plugin even comes with 4 advanced modulators, just in case you feel like being creative.
Regularly $125 USD, MAutoDynamicEQ is on sale for just $37 USD until May 1st, 2019.
You can also get 50% off on MTurboReverb, MXXX, MUltraMaximizer and MVibratoMB this week only as part of the Eternal Madness sale.
More information: Meldaproduction