Peter Kirn of Create Digital Music has announced a limited edition MeeBlip anode bass synthesizer.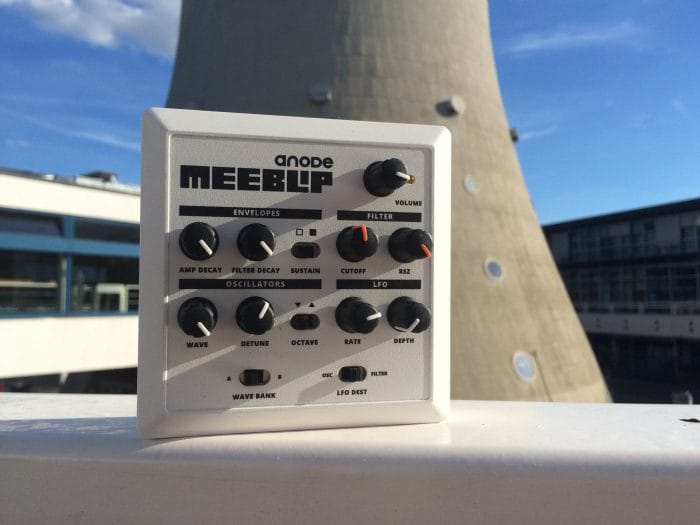 We're really proud of our MeeBlip anode synthesizer. It's gotten some great reviews, and you've made some terrific music with it in a bunch of genres. It's fully open source hardware, but you can get it out and play it right away even if it's your first synth – as far as we know, it's the first widely-available synthesizer hardware that can say that.

So, to celebrate anode, we're bringing out a special limited edition for summer. As you've no doubt noticed, it comes in a new creamy white case. But the controls have been updated, too. People liked the wavetable mode so much, we've made that the default, so you can dial in a wide range of sounds from the front panel. And to give you blindingly-quick access to envelopes, there's one knob for amplitude and one knob for decay. Sound performance has also been fine-tuned, so it's even more responsive.

We're only making 250 of these, hand numbering them, so once they're gone, they're gone. (The original anode will remain available, both direct and at worldwide dealers.)
New in MeeBlip anode limited edition
Dual envelopes. Amplitude and filter envelopes with easy-access knobs, right on the front panel.
Wavetables, direct. anode's most popular mode, now loaded by default, so you can dial in a range of edgy and rich sounds.
Limited edition case. White custom enclosure from our case maker in the USA.
Even better sound performance. Updated firmware fine-tunes sound responsiveness.
Get it before it's gone. Hand-numbered – only 250 units will ever be made.
The limited edition MeeBlip anode is available for purchase for $139.95 USD, with free shipping to the USA & Canada and discounted international shipping until July 15th, 2015.
More information: MeeBlip