MeeBlip has announced availability of the MeeBlip cubit go, a USB MIDI interface that you can use anywhere with any OS, any computer, or any mobile device with MIDI support.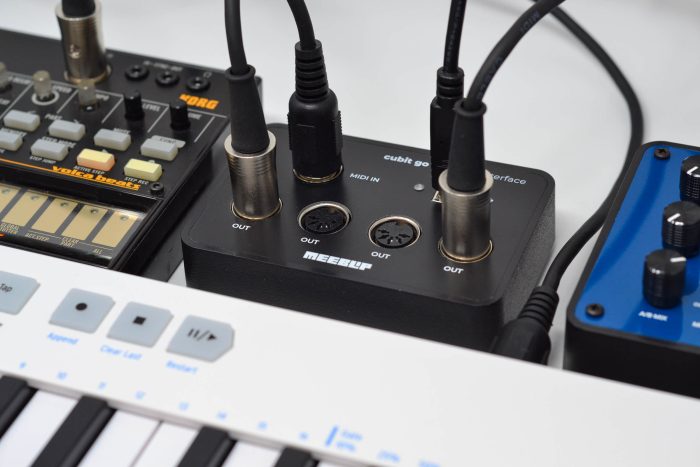 The device features integrated hardware MIDI thru circuitry on the four outputs, offering rock-solid, ultra-tight timing with no software delay.
It's got the ports you need most often – one input, so you can perform, and four outputs so you can connect more gear without re-patching. USB connects input and output to your computer or mobile device, so you can use MIDI with your favorite software.

cubit go is lightweight and compact. It's also driverless and USB powered, which means it works with phones and tablets as well as computers. And the jacks are top-mounted to fit cubit go into tight spaces, even when cabled up.
cubit go features
1×1 USB MIDI interface with integrated hardware MIDI thru.
Four hardware-mirrored output jacks – no software lag.
Opto-isolated MIDI IN to reduce ground loops.
High performance 32-bit ARM Cortex processor.
Class-compliant USB MIDI – no drivers needed.
Bright green MIDI light flashes when sending or receiving data for easy troubleshooting.
Size: 108 x 76 x 25 mm (4.25″ x 3:" x 1″), weight: 110 g (3.9 oz).
Includes 1 m (3 ft) USB cable.
USB powered.
Works with macOS, Windows, Linux, iOS and Android.
cubit go is available for $59.95 USD, with free worldwide shipping through August 19th, 2019.
More information: MeeBlip