Peter Kirn of CDM has announced the release of the MeeBlip triode, the follow-up of the award-winning MeeBlip anode synthesizer.
The triode has some new features, including a sub oscillator, 8 additional custom wavetables (28 in total), tuned envelopes for more response, front-panel glide, and MIDI control of the analog filter resonance. It's also 100% more red.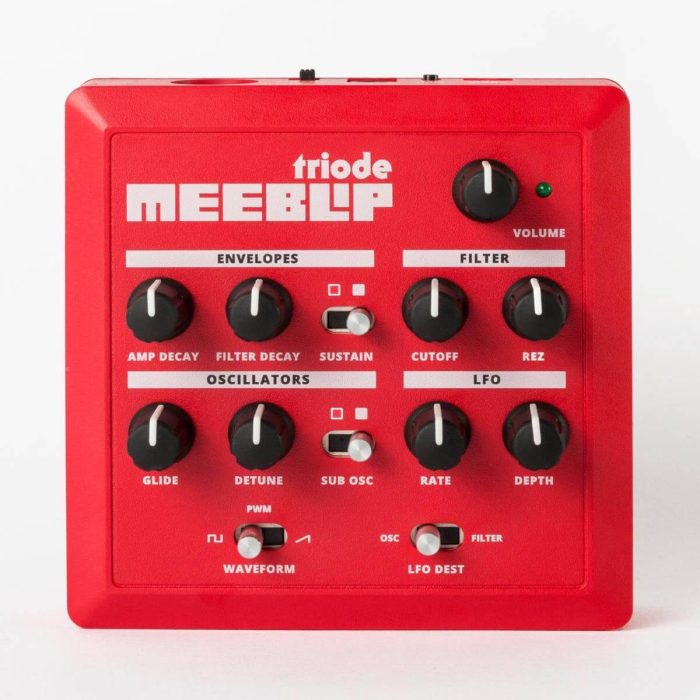 MeeBlips are not polite, and they're not pristine. They're deceptively tiny, simple synths that make big, grimy sounds.

The award-winning MeeBlip anode was already capable of producing ridiculous bass sounds. So with triode, we challenged ourselves to make things even more extreme.

triode's huge sound is driven by three oscillators and a unique twin-t analog lowpass filter. Switch on the pure square wave sub-oscillator and punish your favorite subwoofers.

Choose from traditional square / pwm / sawtooth waveforms, or select from 24 grungy single-cycle wavetables.

Now, everything is MIDI controllable – even filter resonance.
The MeeBlip triode is available for purchase for $139.95 USD.
A bundle with a BlipCase is on sale for $199.95 USD (regular $229.95 USD), and you can also get a mio USB to MIDI interface for $35.95 USD (regular $49.95 USD).
More information: MeeBlip