Audio Plugin Deals has launched a Mega Bundle Deal, offering discounts of up to 80% off on a collection of 19 products from 4 developers.
In this limited time sale you have option of buying individual products from different developers at great discounts or buying the whole bundle at a huge 78% discount.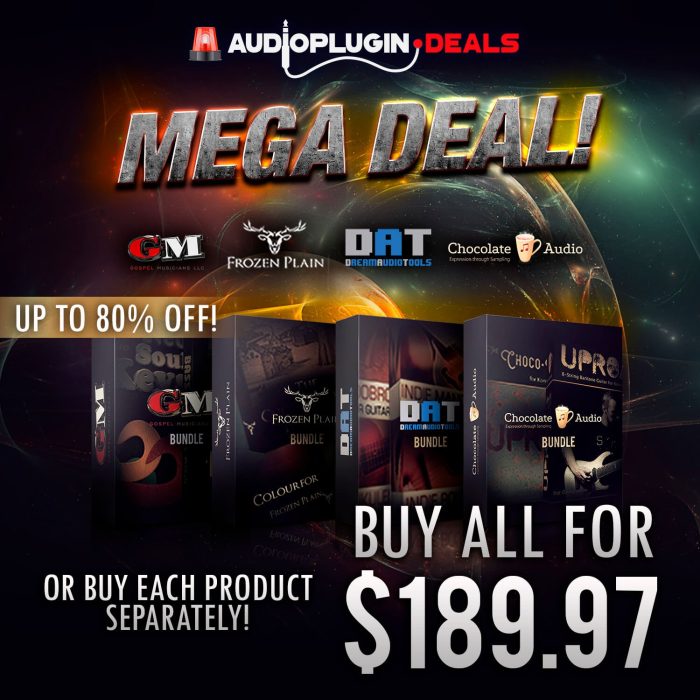 The following products are included in this sale:
Gospel Musicians
Neo Soul Keys is a virtual instrument that offers some of the most realistic, organic, and warm sounding electric pianos ever created. BASSalicious is dedicated synth bass VST/AU plugin with a single focus on sound. The instruments are 75% off each, or purchase both at 80% off!
Dream Audio Tools
The Bass Bundle features the complete collection of multisampled electric and acoustic bass repetitions and sustained tones from the Repetitive Bass series. The Folk and Ethnic Bundle comes with four authentic and lively sounding stringed instruments (Ukulele, Bouzouki, Mandolin and Dobro/Resonator guitar), an especially musical Kalimba and three percussive libraries (Dream Circle, South Italian Percussions and Dream Tamboo). Save up to 78% off on these Kontakt libraries.
FrozenPlain
On sale at a 77% disocunt is a custom selection of FrozenPlain's unique sound design libraries. Arctic Strings is easy to use and smooth sounding real strings library, Colourform is a sound design library made from abstract sources such as scrap metal, ceramics, and nature, and The Cordophones is a collection of plucked and hammered steel strings, which can be blended and morphed together.
Chocolate Audio
On offer is an essential collection of baritone guitars consisting of 3 libraries which have been carefully recorded to produce an outstanding quality result. Save up to 80% off on UPROAR Raw, UPROAR Vol 1 and UPROAR Vol 2.
The combined value of all items is $844.84 USD, but you can grab the complete bundle of all 19 products for only $187.97 USD until July 25th, 2018.
More information: Audio Plugin Deals