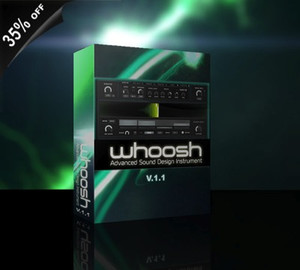 Meltedsounds has announced version 1.1 of Whoosh, a true sound design instrument and enables you to create breath taking whoosh and pass-by effects.
It is possible to precisely design sounds varying from whistling wind whooshes to air ripping engine pass-bys or completely over the top granular sci-fi effects.
The included doppler effects engine was designed from ground up to physical model the acoustic phenomena of an object that approaches, passes, and recedes from an observer.
Changes in Whoosh v1.1
Import your own sounds.
Midi functionality.
Whoosh through manually.
Randomize sound selection.
Extend start or end time.
Snap to bpm.
Whoosh is available at a 35% discount until June 30th, 2014 (regular $79 USD).
More information: Meltedsounds