MethodRed has updated its MIDIPlayer X, a fast, easy way to play MIDI files on your Mac.
Version 2.2 features Expanded AutoPlay to include auto-advance mode to play all loaded files in succession, and Expanded AutoPlay with repeat mode to continuously repeat a selected file.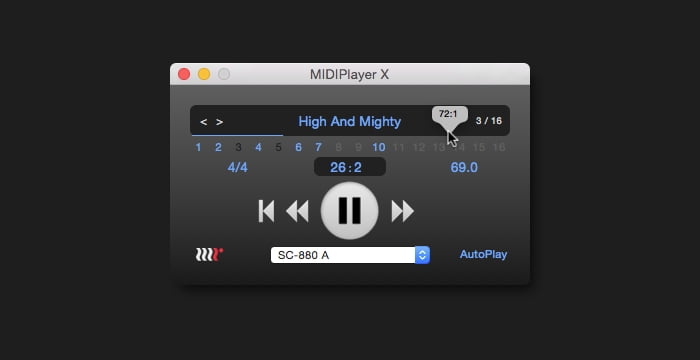 It works with virtually all commercial MIDI hardware and software, and will play any MIDI file to your choice of available MIDI outputs, either hardware or software, or to its own built-in GM-compatible virtual synth.

The updated AutoPlay modes let you control if file playback begins automatically or waits for manual control, repeats the selected file continuously, or automatically moves to the next file when the current file ends.
MIDIPlayer X features
Rewind, fast forward, and jump to any timeline location.
Mute and Solo channels.
Tempo control.
Counter format.
Simple drag and drop operation with files and folders.
Save customized MIDI files.
Audio MIDI Setup shortcut.
MIDIPlayer X is available for purchase for $1.99 USD.
More information: MethodRed / MIDIPlayer X