MIDI Madness Software has released version 3.0.5 of MIDI Madness, the algorithmic MIDI melody generator plugin for Windows and Mac.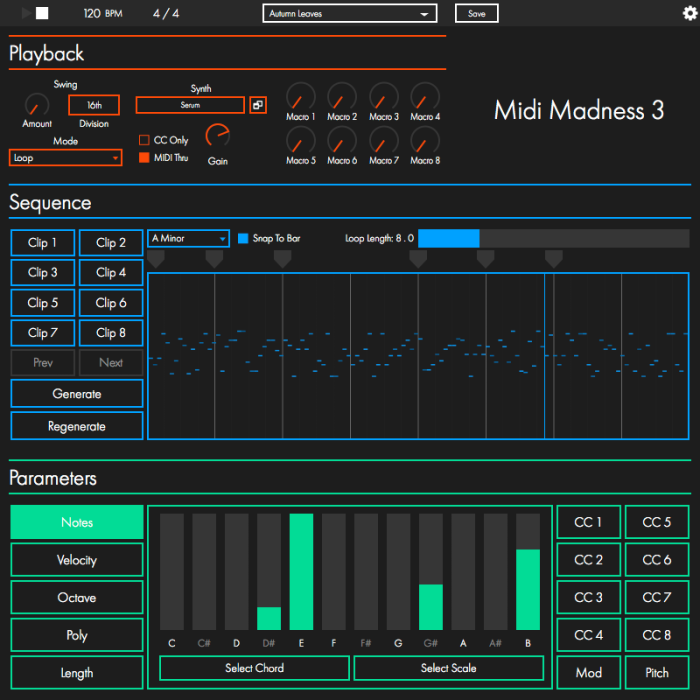 Midi Madness 3 can create an unlimited number of melodies using a simple set of probability weightings. Simply set some parameters, such as a chord sequence and some MIDI controllers, and let Midi Madness go wild, creating melodies, chord progressions and sequences.
Changes in MIDI Madness v3.0.5
Added both Save and Save As preset options.
Note sliders now rearrange root note based on song key.
Added option to force small GUI mode for if auto-detection doesn't work.
Auto-close settings menu after opening the manual.
Added enharmonic (both #/b) song keys.
Update note names based on song key.
Choose chords and scales based on enharmonic key.
Explain voucher redeem process if voucher added instead of serial number.
Show demo limitations tooltip when creating more chords.
Fixed some crashed plugins not being omitted from next scan.
Fixed log truncating.
Fixed chords not showing sometimes if multiple instances loaded.
Fixed selecting a scale would crash.
Fixed FL Studio not loading Init patch.
Fixed FL Studio not loading enharmonic keys.
Fixed incorrect version number saving.
Fixed some notes having infinite lengths.
Fixed MM3 would crash if invalid MIDI file dropped on.
Fixed can drag chords out of range.
Fixed possible crash when modifying loop length.
Fixed init preset having polyphony.
Fixed missing second loop on Logic.
MIDI Madness 3 (VST/AU) is available from Plugin Boutique at a 20% discount, priced at $59.95 USD. The update is free for existing MIDI Madness 3 users.
More information: MIDI Madness 3