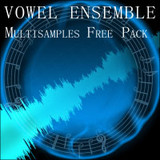 Mihai Sorohan has released the Vowel Ensemble Choir Pack, a free sample pack in Multisampla and Kontakt formats.
The choir patch was developed by Mihai Sorohan together with Richard Osborn for Mu.Lab Multisampla and Selcuk Bor (from Symphony of Specters) for Kontakt.
Vowel Ensemble Choir Pack features
Choir: Citrina – soprano & alto, Jelena – alto, Roman & Dimitri (Timohi) – tenor, JonnyZed – tenor, Mihai – tenor & baritone.
Gear used: Microphone – AKG Perception 170, Preamp – Art Tube MP Project Series, Soundcard – M-Audio Audiophile 192.
Samples at 32 bit float, 44.1 khz samplerate.
The Vowel Ensemble Choir Pack is available as a free download. Note: The Kontakt files and patches can be found on Symphony of Specters Facebook Page.
More information: Mihai Sorohan / Vowel Ensemble Choir Pack