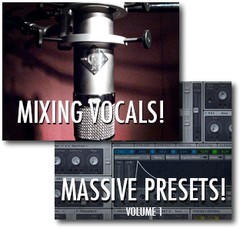 Mixnotes.tv has announced the release of new premium content on its website, including a ew video lessons covering all things mixing vocals related as well as an assortment of presets for Massive.
New premium content at Mixnotes.tv
Mixing Vocals: In this lesson we show you 2 basic ways of mixing vocals. The 1st approach is a traditional way of EQ / compression / routing reverbs and delays. We walk through how to listen for bad resonances in a vocal and then show you where to find them and how to solve your problems via any EQ. We show you compression techniques, reverbs, delays and all of the fundamental ingredients you need to get your vocals to sit on top of a mix in a musical way. In the 2nd approach we walk through mixing vocals using some of the new "all in one vocal" plugins you'll see from Waves and Izotope. I show you how to route and break down a system so you can have total control of your sound in a quick and easy way. We also discuss the pros and cons of working this way.
Massive Presets: 133 Massive Presets! Big synth leads, sweet pads, thumping bass sounds and killer FX make this collection a must have for anyone looking to tighten their production game. Designed from the ground up, each preset offers you the control and flexibility you need to make your music come to life the way you want it to. Producer Jonathan Roye was meticulous in the programming of this massive
collection of sounds.
The Mixing Vocals tutorial is available to purchase for $35 USD, the Massive Presets Vol.1 soundset costs $20 USD.
More information: Mixnotes.tv