After a year of working on a range of 'experimental' sample instruments, MkVI Audio has announced that these instrument libraries for Native Instruments Kontakt are now available.
The instruments have a strong focus on ambient textures, using a range of sound design techniques such as convolution and granular time-stretching.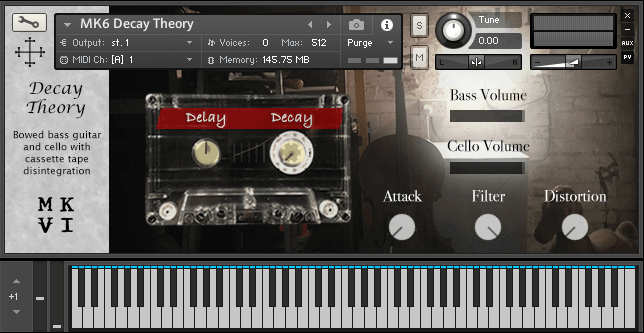 MkVI Audio works with the philosophy that unique samples and simple tools can create great instruments – without cramming as many controls or effects, or bumping up file sizes, to feign quality and value for money.

Many instruments are created using both digital and practical sound design practices, such as destructive granulation, convolution and tape loop disintegration. Such effects are used to create entirely new instrument sounds as well as to further evolve existing 'real-world' instruments.
The following libraries are currently available:
Decay Theory: Bowed Bass Guitar and Cello drone instrument with tape loop disintegration.
Desert Sands: Blend percussion and ambience with this rich Tam-tam, Cello and Flute convolution instrument.
Guitar Harmony: Ambient Electric-Guitar harmonics with distortion FX.
Infinite Grand: Yamaha Baby Grand Piano with infinitely looped granular time-stretched effects.
Murmuration: Infinitely time-stretched granulated vocals with distortion, delay, envelope and filter control.
Plucked Grand: Yamaha Baby Grand Piano with finger plucked samples.
Singing Bowls: Bowed and struck Tibetan Singing Bowls.
Water Drums: Inspired by Gourd Water Drums, an instrument used by cultures around the world for thousands of years.
Whispering Foil: Musical saw with glide, legato and vibrato control.
Prices range from £3 GBP to £24.95 GBP, with Singing Bowls made available as a free download. Kontakt version 5.6 or higher is required (full version).
More information: MkVI Audio