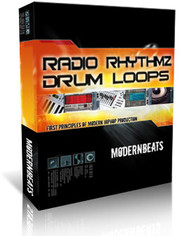 ModernBeats has released Radio Rhythmz, a drum loop library which provides a wide variety of cutting radio-ready drum loops.
'Radio Rhythmz' comes packed with over 210 loops and 540 files in 3 formats (WAV/AIFF/REX2) totaling 350MB in size. The loopset was produced at the popular Top-40 Radio tempo of 120BPM and contains 10 multi-track drum loop themes with up to 4 variations per theme: "Main Drum Beat 1", "Main Drum Beat 2", "Drum Break 1", and "Drum Break 2".

'Radio Rhythmz' features a range of hit-worthy Radio Pop drum rhythm programming modeled after today's hottest artists such as Lady Gaga, Black Eyed Peas, Rihanna, Chris Brown, Katy Perry, Madonna, Ke$ha, Beyonce, Kelly Clarkson, Britney Spears, and more. All drum loops are in construction-style format where each multi-track drum theme is separated and broken down into individual drum instrument files allowing for full mixing control and arrangement.
Radio Rhythmz is available to purchase as a download for $29.97 USD.
More information: ModernBeats / Radio Rhythmz