Modstep has launched version 1.0 of its app that allows you to create music and jam with your iPad.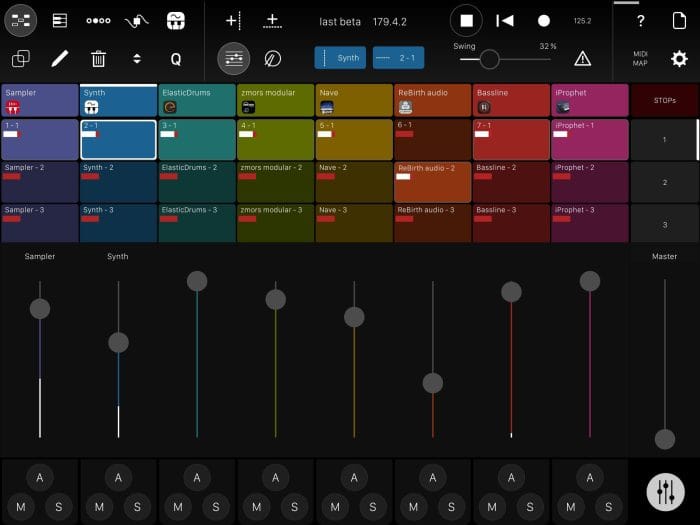 Seemlessly combine your favorite tools no matter in what shape or format they come: IAA Apps, your MIDI hardware, Mac- and PC Software, as well as the internal drum sampler and synth. Modstep speaks MIDI, Inter-App Audio, can send a trigger-signal and stream MIDI and audio between your computer and your iPad with studiomux.
Use it as the centerpiece of your setup to create and perform music on the go, in the studio and on stage.

Modstep is developed and designed by Christian Blomert, Benjamin Weiss and Pascal Kaap.
Modstep features
Full-blown MIDI sequencer with Step Sequencer and Piano Roll.
Unlimited MIDI tracks.
Extensive Step Sequencer with active steps.
Audio and MIDI streaming directly via the charger cable to Mac and PC using studiomux technology.
Up to 128 MIDI CCs per Track can be modulated.
Built-in drum sampler with filter, delay and reverb, fully modulatable.
Built-in synthesizer with filter, delay and reverb, fully modulatable.
Templates to control external MIDI hardware.
Template editor to create your own templates for IAA Apps, desktop Apps and external MIDI devices.
Supports all MIDI interfaces for the iPad.
Core functionality controllable via external MIDI controllers.
Use third party IAAs as instruments and effects within one app.
Integrated IAA mixer.
Trigger out.
Modstep is available for iOS 8 or later, priced at $19.99 USD. iPad 1 is officially not supported, though all MIDI functionality including MIDI-streaming via studiomux currently works on iOS 5.1.1. For audio and MIDI streaming to a Mac or PC, the studiomux server software is required.
A version 1.0.1 update will be available soon, featuring bugfixes and Ableton Link-integration.
More information: Modstep