Modstep has been updated to version 1.2, featuring AUv3 user presets, 8 new MIDI Templates, 35 new Sample Kits, workflow improvements around Autosave and audio export as well as other areas and Audiobus 3 readiness.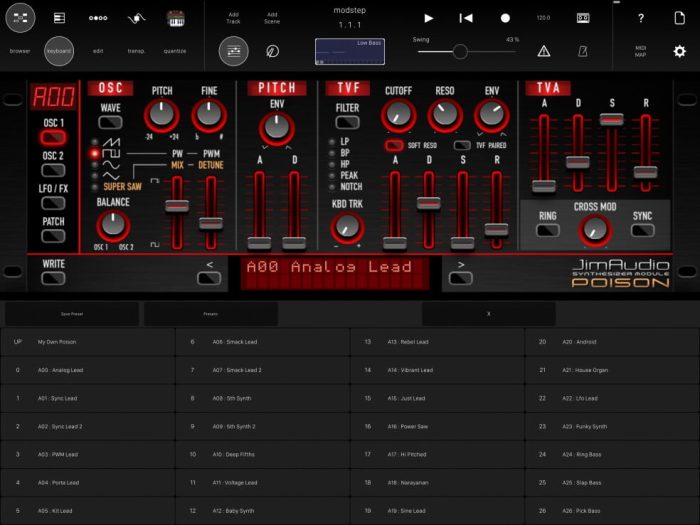 Introducing Modstep, Modulation Monster and the first full-blown MIDI sequencer for the iPad. Modstep allows you to create music and jam with your iPad and your favorite IAA Apps, Audio Units, Mac and PC software and MIDI hardware as well as the internal drum sampler and synth. Use it as the centerpiece of your setup to create and perform music on the go, in the studio and on stage.
Changes in Modstep v1.2
AUv3 user presets (for AUv3s that support it).
Audiobus 3 ready.
35 new Sample Kits.
8 new MIDI templates for Roland TR-09, Roland TB-03, OTO BIM, OTO BAM, Modal CRAFTsynth, Meeblip triode, Korg monologue,Elektron Analog Heat.
Added the possibility to disable Auto Save.
Changed time display on Auto Save to minutes and seconds.
Added BPM info for exported audio files and folders.
Clearer indication in the Mixer when audio is distorted.
Various workflow enhancements
Fixed several issues with AUv3 under iOS 10.x.
Fixed a bug that caused MIDI Settings to be ineffective/wrong after reloading a project.
Fixed a bug that could lead to a crash when importing via AudioShare.
Fixed a bug with copying Scenes and Loop Settings.
Fixed a bug that caused exported audio to be too loud / distorted.
Fixed a bug that disregarded new clip colors when they were changed after reloading.
Fixed a bug that would cause the navigation window to be stuck in Step Sequencer and Piano Roll.
Modstep for iOS 8.0 or higher is available for purchase for $19.99 USD.
More information: Modstep