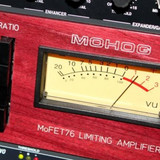 Mohog Audio has announced the MoFET76, a limiting amplifier designed after the legendary 1176 Revision F, with slight modifications including switchable output transformers and input metering.
These compressors sound amazing on any source including vocals, bass, snare and overheads. Great analog sound! This is a New custom built unit completely hand soldered and hand wired for greater quality control.

These units come complete, calibrated and tested. Each unit has a beautiful piece of 1/8″ Purple Heart, Padauk, Walnut or Walnut stained Ebony wood laminated to 2mm thick aluminum (all electronics are completely encased in metal).
MoFET76 features
Hand Soldered and wired w/Teflon coated silver plated wire
Through plated pcb with top layer ground plane
High quality Nichion Audio KW capacitors.
Transformer balanced input with custom Edcor transformer
Transformer balanced output with switchable custom Edcor and Carnhill transformers
Three deck input attenuator
Super fast Attack time from 20 microseconds to 800 microseconds
Release time from 50 milliseconds to 1 second
Input metering
Neutrik XLR input and output
TRS stereo link interconnect
Painted white case
One year warranty
The MoFET76 is available to purchase for $1,149 USD.
More information: Mohog Audio