Moog has announced the official worldwide release of the Werkstatt-Ø1 analog synthesizer Moogfest 2014 Kit, a patchable, 100% analog synthesizer whose design is based on classic Moog circuits.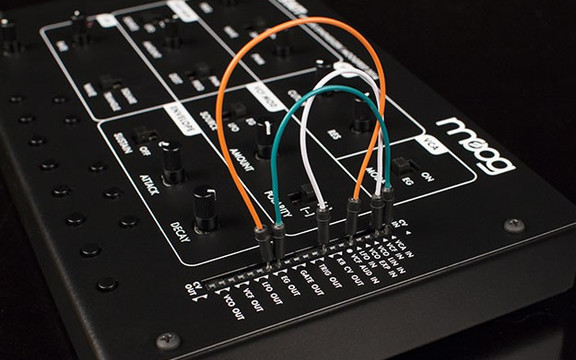 This highly-portable instrument is secured in a solid-steel chassis and features a harmonically rich Moog VCO, classic 4-pole Moog Ladder filter, wide-range LFO with audio-rate modulation capabilities, ADS envelope generator, and an analog patchable header for expansive sonic experimentation, manipulation, and decimation. To demonstrate the range and flexibility of Werkstatt's classic Moog sonics, Moog has released a video featuring Patrick "P-Thugg" Gemayel, keyboard player for Atlantic Records' band Chromeo, building an improvisatory electro funk track using only the Moog Werkstatt-Ø1 and a simple drum pattern.

Today also marks the launch of WerkstattWorkshop.com (beta) – an interactive creative learning portal containing project ideas, mod tutorials, parts lists, educational lesson plans, 3D printer files, Arduino integration and control and many other dynamic resources for Werkstatt owners. This microsite also includes Moog's new and on-going research surrounding the use of subtractive synthesizers in STEM and STEAM high-school classrooms. Lessons in these studies are focused on project based learning opportunities, and encouraging a creative deployment of practical skills in STEM fields. All lessons and associated materials are open source and available online free to educators across multiple disciplines.
The Werkstatt-Ø1 is available for purchase for $329 USD.
More information: Moog Music