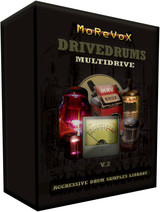 Morevox has announced the release of Drivedrums V2 Multidrive and Ultradimensions, two new libraries for WaveMachine Labs Drumagog 5.
With Drivedrums v2 MoReVoX introduces Multidrive. Taking advantage of the new Room Sounds feature in Drumagog 5, Drivedrums v2 uniquely substitutes the room sounds for three controlled distortion "colours" through the plugin mixer.

It works similarly to an equalizer, but these tone variations were created by splitting the original drum sounds into different frequency bands and then building brand new samples. These new variations were then carefully processed through a variety of distortions, using top-quality analog signal chains, with the aim of providing different distortion colours components that can be mixed with the base samples.
Drivedrums V2 features
Total of 3,136 samples in 24Bit/44.1khz format.
Includes 30 Kicks, 30 Snares, 8 Toms Racks, 30 Cymbals and more.
Developed by generating distortion through different kind of devices: Vacuum tubes, analog tapes, preamps were used to create samples with light to aggressive and violent distortion.
Each GOG file includes three macro tone controls: Fatness, Richness/Attack, and Top Definition.
Drivedrums V2 is available to purchase as a download for $129 USD and on DVD for $149 USD. An upgrade from V1 is $49 USD.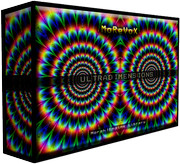 Ultradimensions is a library for the new Morph|Engine in Drumagog 5.
Developed by Wavemachinelabs and MoReVoX, Morph|Engine is an entirely new way to process drums within Drumagog 5. Morph|Engine is a dynamic morphing processor which shapes your drums in a way never heard before. Snare drums take on an organic "growl", bass drums sound like they have liquid skins. Unlike traditional processing, Morph|Engine is fluid and dynamic, changing with the dynamics of every beat.
Ultradimensions features
150 Morphs with 8 variations each.
Four main variations plus four "Extreme" versions of the main variations.

1 (+extreme 2): Base Morph
3 (+extreme 4): More Mid Freq / Analog Rich response
5 (+extreme 6): Wider response
7 (+extreme 8): More impact and low end response

The Extreme variations are perfect to process dull sounds or simply obtain more extreme and aggressive morphed sounds.
Ultradimensions for Drumagog 5 is available to purchase for $99 USD.
More information: Morevox