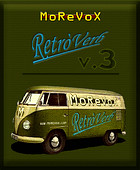 Morevox has released RetròVerb 3, an impulse response library, and Morevox Pack 2, a new bundle that includes all the Morevox drums and IRs libraries.
Morevox RetròVerb 3 sounds like a New Top Class Rev Hardware Unit with an ORIGINAL TOP SOUND QUALITY. Morevox RetròVerb contains exclusive Real Spaces Reverbs IRs, Real Vintage Plates IRs, Vintage Reverberation Units IRs and Custom Made Morevox IRs.

Since the v.2.0 we have experienced the IRs sampling to Analog Tapes; From this experience we have created the "Classic Drive" category that exhibits an OUTSTANDING and UNPARALLELED IRs sound quality with Solid Low End, Rich Mids and Creamy Hights.
New in Retroverb 3
4 New Classic Drive Sub-Categories:

Chambers
RoomyPlates
Sounding Venues
Sustained

200 NEW IRs.
The Free edition now includes 10 FULL WORKING IRs.
RetròVerb 3, now featuring 450 high quality IRs (24bit/44.1), is available for purchase for $99 USD. The upgrade from v2.x is $29 USD, and $59 USD from v1.x to 3.0.
You can also purchase all Morevox products in one bundle, the Morevox Pack 2, which includes Elektromorph I & II, Drivedrums, Drumbuster and RetròVerb 3, a total of 2,600 samples and 450 IRs in 5GB of data. Morevox Pack 2 is available for $399 USD, the upgrade from Pack 1 is $79 USD.
Visit Morevox for more information.