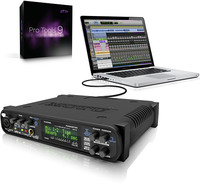 MOTU has announced that its audio interfaces are now compatible with Pro Tools 9.
Are you a Pro Tools user? Have you always wished you could use a MOTU audio interface with your Pro Tools software? Now you can. All current MOTU FireWire, USB, and PCI audio interfaces are compatible with Pro Tools 9, including the UltraLite-mk3 Hybrid, 828mk3, 896mk3, 8pre, Traveler-mk3, 2408mk3, and MicroBook. A whole new world of compatibility and interoperability has opened up between Pro Tools software and MOTU hardware. Getting them going together is easier than ever, too.

MOTU's currently shipping Core Audio and ASIO drivers for Mac OS X and Windows 7 are already compatible with Pro Tools 9. So if you already have them installed, you are ready to go. If you are just getting started with a current MOTU audio interface product, simply install the latest MOTU FireWire/USB or PCI audio driver package and follow the instructions for operation with a standard Core Audio or ASIO host application.

As always, be sure to consult the Avid web site for Pro Tools 9 Mac and Windows system requirements. All MOTU audio interfaces are fully compatible with the systems recommended by Avid for Pro Tools 9.

Pro Tools 9 is offered in several different packages. As of this writing, every available Pro Tools 9 offering supports MOTU interfaces via Core Audio and ASIO driver support.
More information: MOTU