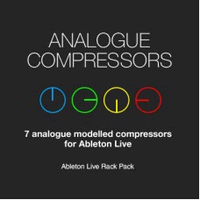 Minimal System Instruments has announced Analogue Compressors, a collection of effect racks for use in Ableton Live.
Boost your Ableton toolset with the fantastic Analogue Compressors Rack Pack. This pack consists of seven audio effect racks that accurately model real hardware comressors from the Minimal System Instruments studio. If you are looking for the sound of hardware compression from directly within Ableton then this pack is for you.

We have modelled the included racks on compressors from Neve and Chandler, but there are also compressors modelled on vintage boutique harware full to the brim with analogue character.
Analogue Compressors features
Boutique English Compressor (Modelled on a handmade one-of-a-kind compressor from the UK).
BuzzAudio SOC 1.1 (This fantastic compressor from BuzzAudio has been recreated as a great sounding Ableton rack).
Chandler Germainium Compressor (If you have not yet heard a Chandler compressor you are missing out!)
Crane Song Trakker (A beautiful hardware compressor, big sound and big character).
Handbuilt one off 'Crush' compressor (If you want to get real analogue sounding drums then you will love this, bags of character!).
Neve 2254R (A legendary compressor, nothing more needs to be said!)
Boutique Valve Compressor (A monster of a compressor modelled on a fantastic and rare piece of hardware).
Analogue Compressors for Ableton is available to purchase for £5 GBP.
More information: Minimimal System Instruments