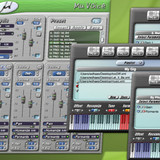 Mu Technologies has released version 1.3 of Mu Voice, a plug-in that allows you to tune your vocal recordings, apply special effects and add natural sounding harmonies when mixing your track.
The motto of this release is: "More Control – More Fun" and it features innovative and creative ways to control the plug-in from any MIDI controller.
New in Mu Voice v1.3
MIDI-2-Pitch: The pitch of the lead voice can be tuned to a MIDI note (red keys). The tuning also affects also the harmonies.
MIDI-2-Harmony: Several harmony channels can be put to MIDI mode. This means that when a note is played (orange keys), it is assigned to one of the MIDI mode channels. This features allows you to create harmonies just by routing MIDI notes to the plug-in.
(Delta)Pitch-2-Parameter: This is an advanced feature that allows parameters to follow the pitch or the interval between the lead and the harmony. This feature is important for getting a natural sound.
Change Events: Any MIDI controller can be mapped to any set of Mu Voice parameters. This requires a very simple set of actions; touching a controller, selecting a number of parameters, and editing the parameter curves.
Change Events: These events are typically sent when a synth bank is changed or when a foot switch is pressed. Triggering a program change 10, will apply the chord and preset at the tenth position in the chord scheme.
Mu Voice XML files for different songs can be grouped in playlists. Files are added just by dropping them on the playlist.
Assignable Navigation Controls: The MIDI panel has six programmable buttons. The first two are used to move forward and backward through the chord scheme. The second two are used to do the same but by using anchor points. The final two are to go to the next song in he playlist.
Windows and Mac Installers make sure that all components are in the right place.
Host integration is improved significantly. The XML project files are now linked to your recording session. Loading and saving your project will automatically load and save your Mu Voice XML file.
Mu Voice is available to purchase for PC and Mac (VST/AU/RTAS) for $329 USD / 239 EUR. Version 1.3 is available as a free update for current Mu Voice users.
More information: Mu Technologies